---
Music
---
Announcing my "Sacred Union" CD release!
Listen to clips of CD tracks on CDBaby.com or Amazon.com.
For reviews, please click here.
To license my music, click here.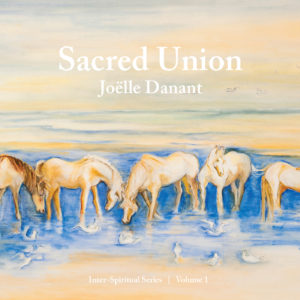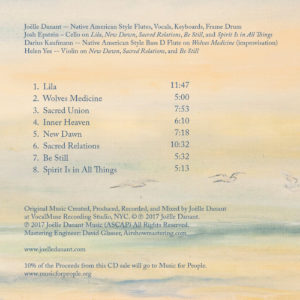 Sacred Union CD Description
Coming mostly from improvisation, these original compositions blend New Age, World Music, Native American Style Flute Music and Inter-Spiritual Chanting (non-denominational), as invitations to embark on heart-opening journeys, whether peaceful or passionate — with a reverence for the Sacred in life.
Transporting melodies feature especially the wooden Native American style flute, and are sometimes accompanied by mostly acoustic instruments such as violin, cello, piano, and voice, as well as soothing sounds from the Natural World. The quieter melodies are occasionally supported by a gentle heart beat rhythm on frame drum. These melodies have a soothing, relaxing, potentially healing effect that can support meditation, yoga, massage, and other therapeutic practices; while the more passionate and dynamic melodies inspire an uplifting mood. A couple of longer flute melodies are evocative soundscapes, stirring the imagination to soar into the infinite, like a bird's flight across the wide open sky over a vast, serene sea.
In some tracks, the use of repetition of simultaneous musical parts induces a flow state. A couple of inter-spiritual chants further build on the power of repetition as a spiritual practice to tune the heart and mind to the Divine Presence and Sacred Oneness of All Life.
Much gratitude goes to all those who contributed to making this CD a positive reality (details provided inside the CD cover).
Dedicated to the benefit of the One and All.
❦
CD Credits:
Joelle Danant – Native American Style Flutes, Vocals, Keyboards, Frame-Drum
Josh Epstein – Cello on Lila, New Dawn, Sacred Relations, Be Still, and Spirit Is in All Things
Darius Kaufmann – Native American Style Bass D Flute on Wolves Medicine (Improvisation)
Helen Yee – Violin on New Dawn, Sacred Relations, and Be Still
Mastering Engineer: David Glasser, Airshowmastering.com
Nature Sounds Courtesy of Karl Hamilton from Naturesounds.ca
Painting by Josiane Naud © All Rights Reserved
Photos by Cheryl Stockton © All Rights Reserved
Cover Design – Arielle Zoeller
❦
10% of the proceeds from the cd sale will go to Music for People.
Buy individual tracks from the CD, or buy the full CD here.
❦
Reviews
"This music is exquisitely beautiful and transports me to transcendent places. And I could just journey by staring at the incredibly wonderful painting on the cover. Thank you Joelle for blessing the world with your music. It is such a profound gift!" Spiritkeeper
"It's otherworldly, sacred, profound, beautiful and incredible technique. It is helping me heal." Karla
"Absolutely stunning, gorgeous, heart-centered CD. I am in love with this beautiful music. It is breathtaking and so is the artwork.  Perfection divine…!!!  Every piece is breathing the breath of life the breath of God the breath of all!!!! Thank you!" Susan
"I love the blend of Native American flute, voice, nature sounds and other instruments. A perfect CD to calm the mind and go within. Thank you for your heartfelt music!!" Julie
"I love the music, it's so beautiful, comforting… . It makes me feel like I am dreaming a beautiful reverie … . Thank you!" Josiane
"I love this CD and played it over and over when I got it. Joelle's music comes from the heart and when I play it in the house, it fills the space with a peaceful energy. I've been using it as background music for my energy healing sessions, much to the delight of my clients. Although I play Native American flute, I don't usually like to listen to NA flute music. But Sacred Union is an exception because it transcends the genre with a fresh and unique sound. I'm looking forward to playing this disc until it wears out!" Celine
"Best antidepressant!! Warning side effects: may get feelings of flying like an eagle or be transported into various landscapes and traveling through time. I found myself dancing in medieval times ~~" Vivi
"I love this soothing meditative music from Joelle. Her expertise in taking us to that quiet place is so very much needed in this busy chaotic world. I listen to this cd over and over. The lovely flute and gentle vocals take me to a very soothing place. Thank you Joelle!" Rev. Yolanda
❦
Please contact me regarding licensing my music, booking my services for a performance or kirtan; or to find out about my next musical events schedule and locations.